Software Title: Simple Port Tester
Download Link: http://www.pcwintech.com/simple-port-tester
Homepage: http://www.pcwintech.com
Contact Them: http://forums.pcwintech.com
License: Freeware, But have a paid Pro version for (Check Website)
Most online port testers fail no matter what if nothing accepts their connection attempt. This port tester program will open the port on the system it is running on and listen for a connection from this site. So when the port tester program says the ports are open you can count that they are 🙂
The port tester program is for testing connections to the machine the program is running on since it opens the port on that system and listens for a connection. If you need to test connections to other devices such as your security cameras then you can use the online port tester here.
http://www.pcwintech.com/port_test.php
Simple Port Tester is a free program by PcWinTech.com to help users test if their ports are open with just a few clicks.
As of version 2.0.0 and newer of the program now tests both TCP & UDP ports.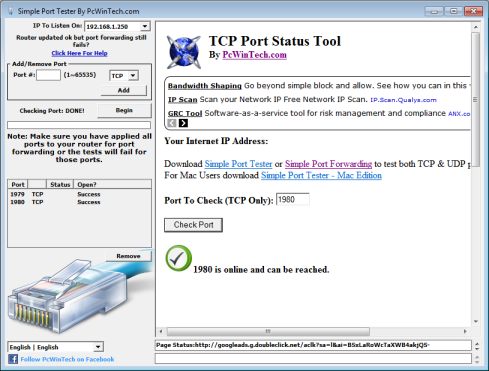 The trick with testing if your port forwarding is working is to have something on your computer actually listening on the port. If nothing is listening on the port the test will fail no matter what. This program will open the port, listen for the connection and help ensure a proper and reliable test as to whether or not your port forwarding is working.
Download, install and run it. Put in the port you wish to test and hit begin, that's it!