Software Title: PD-Proxy
Download Link: http://www.pdproxy.com/download.htm
Homepage: http://www.pdproxy.com
Contact Them: http://www.vpnforums.com/index.php?board=18.0
License: Free basic account / Monthly Subscription $4.99 for premium servers.
PD-Proxy is a tunneling software that can secure your internet connection by encrypting all your connections to the internet.

It can remove/unblock content, services and different websites that is normally blocked by your ISP.It can anonymize your connection because nobody likes to be spied on and tracked. it will secure and encrypt your connection especially if you use public access internet such as Wifi, Hotel or Cell Phone internet. Using PD-Proxy makes it impossible for others to spy on you, they can't even see what sites you are visiting when you are using PD-Proxy.
No one can tell your real IP address or identify your locality.
All the programs installed on your computer will be working automatically via VPN, which is the main difference between VPN and proxy server, requiring software support for proxy connection.
VPN Diagram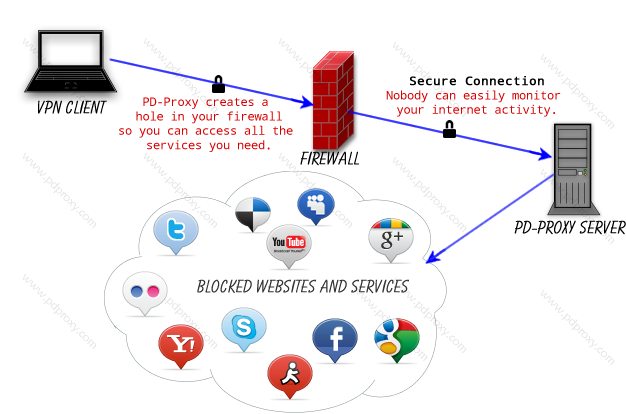 Benefits of VPN Include
Security – VPNs provide the highest level of security using advanced encryption and authentication protocols that protect data from unauthorized access. When you create a private virtual tunnel between your computer and ours, and surf the internet from there, your VPN account is giving you a layer of security you did not have before.
Anonymous Surfing – Our service will make anonymous and secure your Internet connection, creating an encrypted tunnel between you and our servers. This will assign a new ip address to your computer, in this case your online activity is anonymous and prevents harassment caused by people tracking you by your IP address.
Wi–Fi® Security for a Wireless World™ – when you use public Wi–Fi® hotspots, all the information you send to and receive from the Internet is sent over the air in the clear. Wi–Fi® is a radio, broadcasting everything to anyone who bothers to listen. Web pages, emails and passwords, instant message traffic, everything that's not encrypted is readable by anyone in the area.
PD-Proxy uses industry–standard Virtual Private Networking (VPN) technology to create a secure tunnel between your laptop and the PD-Proxy servers. When you connect to PD-Proxy, all your Internet traffic goes through this encrypted tunnel, preventing users nearby from intercepting your information.
Everyone has right to protect privacy online. No one should spy on you while you are browsing anonymously. There are times when we feel hostile environment due to one reason or another, and we really need some solution for anonymous internet surfing, PD-Proxy serves to be the best option at that time!
Our VPN services bypass internet filters, and internet browsing goes uncensored. At the same time you are secure, its more like getting complete freedom on Internet.